Professional Behaviour - Develop
a Client Management System
Client management systems assist the career practitioner to ensure important client information is kept in a structured and efficient manner.
Professional Behaviour - Develop a Client Management System
Professional Behaviour - Develop a Client Management System
Case study
Tammy, a new recruit at a marketing company, is excited about her new job. Tammy was an urgent hire as the previous person who held her position quit quite suddenly. Tammy has a lot to catch up on, especially with regards to all the clients of the company. When Tammy starts going through the client files, she finds that the client information is very scanty and client information was duplicated throughout several files.
Immediately Tammy gets to work sorting out the files and uploading client information onto the client management software system which the company recently installed. Tammy is happy that the company has purchased the software system as it will assist in managing client information. Tammy has found that by using the software system tasks such as creating reports and all paperwork became automated. Over time Tammy found that communication with clients improved as a result of concise and thorough information which resulted in better and increased sales. Tammy is grateful that the client management system was installed at her workplace as she has seen the benefits of it in a short space of time.
What is a client management system?
A client management system refers to how a company builds and maintains the relationship it has with its clients and customers. It is an approach that enables an organisation to maintain and examine the interactions of an organisation between itself and its current and possible future clients. Client management is also referred to as client resource management or client relationship management (CRM).
Client management is crucial to organisations as the belief goes that a happy, satisfied customer is likely to purchase more products or services from a particular company. Happy clients also help to build the reputation and trust of an organisation through acts such as giving positive reviews about the company and by promoting the company by word-of-mouth.
The primary focus of client management systems is the client. However, client management also influences several other areas of the business as well, such as cutting business costs, increasing income, tracking business processes and customer service. A CRM system is used to combine all these areas to improve both efficiency.
Tips for managing your clients
Decide on the mode of communication
After meeting with your client, you together with your client, should decide on the mode of communication that is preferred by your client. This will show your client that you have concern and interest in their preferences.
Make use of technology
There are several types of CRM software available. Therefore a business must use the correct software. Client management software keeps track of the interactions between the company and client, such as follow up meetings, which clients need to be contacted and tracking cases.
Always follow up
Always ensure that the business follows up with their clients. Here the use of a CRM software system is beneficial as the business can set up reminders to follow up with specific clients.
Be transparent with expectations
It is important to be up-front with clients as to what to expect from the work that you will be doing for them. Doing so will create healthy boundaries and behaviours in your working relationship with your clients.
Schedule tasks weekly
Each week, set aside time to plan your client management tasks. Here you will focus on what a client needs from you in the week. Which clients do you need to call back? Follow up? Schedule meetings with specific clients? These tasks can all be planned in advance. Doing so will help you stay organised and improve efficiency.
Conclusion
As we can see, a client management system (with the use of software) would prove highly beneficial to any person or organisation. Many individuals and companies are yet to take the leap to incorporate management systems into their organisations.
Shared under a Creative Commons Attribution-NonCommercial-NoDerivatives 2.0 South Africa (CC BY-NC-ND 2.0 ZA)
This means you can share and adapt this work but not for commercial purposes. You will only need to include the following reference to the original content in all shared works.
Kindly attribute as follows:
Beukes, C. J., Mahadave, K., & Kanhai, K. (2022). Professional Development Portfolio for Career Development Practitioners (1st ed.). CC BY-NC-SA 2.0 ZA, https://creativecommons.org/licenses/by-nc-nd/2.0/za/
Authors
Karuna Mahadave
Christopher John Beukes
Sacda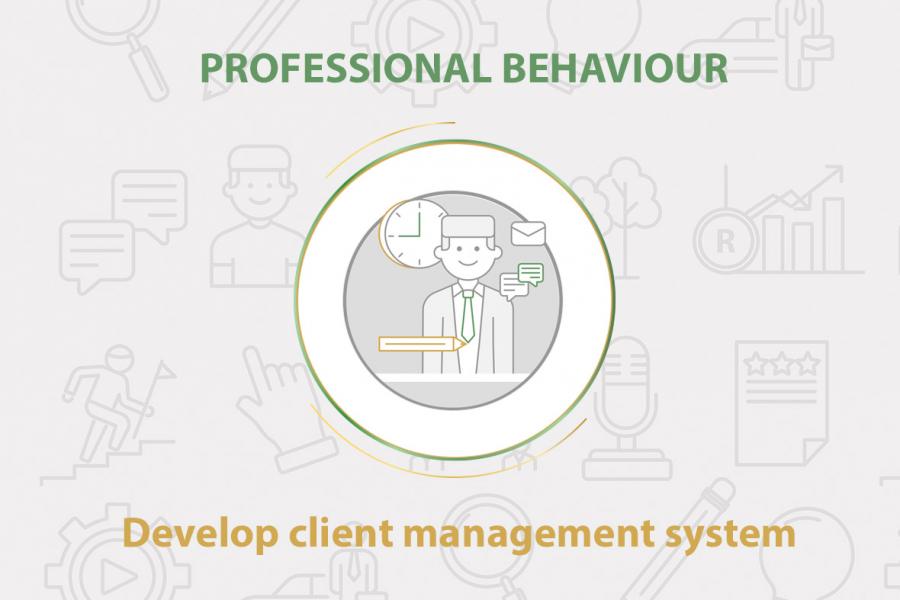 You can earn 0.25 CPD point/s by completing and passing the self-assessment questionnaire for this article.
0.25